Minister of Foreign Affairs of Georgia Ilia Darchiashvili, on 24 June 2022, hosted his Hungarian counterpart Peter Siarto. At the meeting, the Ministers spoke in detail about Georgia's European integration process and the decision of the European Council to give a European perspective to Georgia. The importance of sharing experience and assistance from Georgia to European partners in this process was underlined.
The busy agenda of bilateral relations and opportunities for further development of cooperation, including in the fields of trade, economy and tourism, were discussed.
"The bilateral agenda of Georgian-Hungarian relations is quite busy and rich. We have discussed all the areas where there is potential for further deepening of relations. Among them, we reviewed the dynamics in the fields of trade, economy and tourism. We touched upon the employment opportunities of Georgian citizens in Hungary," said Ilia Darchiashvili.
The sides focused on the process of Georgia's integration into NATO and the tangible progress made by the country in this regard. The significant contribution made by Georgia in ensuring common Euro-Atlantic security was noted.
In addition, the conversation also touched on the difficult environment created in terms of security. Ilia Darchiashvili thanked his Hungarian counterpart for a visit and for his strong support of Georgia's sovereignty and territorial integrity, as well as European and Euro-Atlantic aspirations.
After the meeting, the Ministers held a press conference for the media, where the Georgian Foreign Minister noted that the visit of the Hungarian Foreign Minister was another demonstration of Hungary's support for Georgia's foreign policy priorities.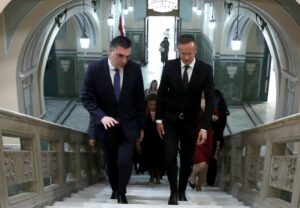 "It is important that his visit coincides with the historic decision for Georgia, in particular, the granting of a European perspective to our country by the European Council. Recognition of the prospect of accession is an important fact, thus giving Georgia a guaranteed promise that it will definitely become a member of the European Union. This is a recognition of the progress made over the years, as well as the special level of relations and integration that exists today between Georgia and the European Union," Darchiashvili said.
For his part, the decision of the European Council was also highlighted by Peter Siarto. According to Hungary, Georgia should receive the status of a candidate, and it should have received it yesterday as well because Georgia deserved it with its achievements. 
"We think that yesterday's decision by Brussels, according to which Georgia did not receive the status of a candidate, contradicts the tasks of strengthening the EU and is another missed opportunity" – said the Minister of Foreign Affairs and Trade of Hungary.
According to him, Hungary will continue to strongly support Georgia in the future.
It should be noted that during the visit, Peter Siarto held meetings with the Prime Minister of Georgia, Irakli Garibashvili and the Deputy Prime Minister, Minister of Economy and Sustainable Development, Levan Davitashvili.