Tbilisi: Revaz Javelidze, the head of the government administration in the Kingdom of the Netherlands, will participate in a high-level anti-corruption conference, which will be held in the format of a roundtable on November 28-29.
The event aims to increase the effectiveness of the joint fight against all forms of corruption. At the high-level meeting, participants will discuss new proposals and ways to fight corruption along with the issue of the establishment of the International Anti-Corruption Court.
The joint hosts of the event are the Foreign Ministers of the Kingdom of the Netherlands, Canada and Ecuador.
The head of the government administration, in his speech, underlined Georgia's progress in the fight against corruption, which, in turn, is solidified by international ratings, indices and assessments.
The Head of Government Administration paid attention to strengthening anti-corruption mechanisms and structures and informed the attending public regarding legislative changes aimed at the Anti-Corruption Bureau creating a legal entity of independent public law.
It was noted that the creation of an Anti-Corruption Bureau in the country would strengthen mechanisms against corruption, which will further refine existing practice and bring it closer to the European standard.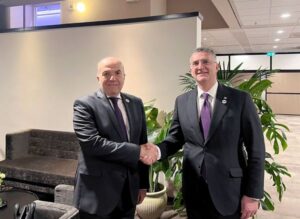 Revaz Javelidze also spoke about Georgia's European integration, and the European perspective and reaffirmed Georgia's unwavering will to become a full member of the European family.
At the same time, Revaz Javelidze held bilateral meetings with the Bulgarian Foreign Minister, Croatian State Secretary and Deputy Foreign Ministers of Romania and Northern Macedonia.
The head of the government administration at the bilateral meetings drew attention to the fact that Georgia is not looking for power to implement the twelve recommendations in the shortest time, which will help the country achieve candidate status. In this context, Revaz Javelidze thanked European partners for their support.
Speaks at the meetings covered deepening economic ties, the importance of strengthening EU connectivity and concrete steps taken in this direction. The parties also reviewed the regional security situation.