Berlin: The police on Saturday said that the death toll from a German train derailment in southwestern Germany rose to five as another body was recovered from the wreckage.
The rescue attempt was challenging because one of the overturned carriages had to be lifted off the ground first. Several individuals are still missing.
Investigators were searching the toppled carriages for victims and evidence as to what caused the disaster on Friday near Garmisch-Partenkirchen, which is hosting the G-7 conference in late June.
"At present, we don't think there were further victims, but I can't yet say for sure," regional deputy police chief Frank Hellwig told reporters.
He told four of the deceased were women, with another 44 individuals wounded, some of them children.
The mishap occurred just after noon on Friday as school holidays started in the two southern German regions, Baden-Wuerttemberg and Bavaria.
The regional train was "very crowded," with roughly 140 people on board, according to police, as a new 9 euro ($10) monthly public transportation ticket valid throughout Germany fuelled demand.
As per the reports, Volker Wissing, Federal transport minister of Germany, paid a visit to the site of the accident Saturday, stating he was "very moved" to see the "dramatic" extent of the damage.
He told reporters, "We will continue to investigate and get to the bottom of what happened."
Richard Lutz, the Head of German rail company Deutsche Bahn, was also on the scene of the incident and expressed his sadness over the losses, promising a thorough investigation.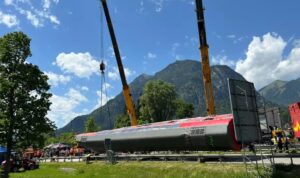 When the tragedy occurred in the Burgrain district, the train had just departed the popular mountain resort of Garmisch-Partenkirchen for the Bavarian state capital Munich.
The region has begun planning for the G-7 summit of international leaders, which will take place later this month.
The heads of state and government, including US President Joe Biden, will convene at Schloss Elmau, 11 kilometres from Garmisch-Partenkirchen, from June 26 to 28.