Georgia: The Ministry of Internal Affairs continues an active and uncompromising fight against the "thief mentality" and the "thief world".
The employees of the Central Criminal Police Department, as a result of the active complex investigative actions and operative-search measures conducted together with the General Prosecutor's Office, revealed the fact of solving the financial dispute between citizens "in a thieving manner". In Adjara, Tbilisi, and Rustavi, 7 persons connected with the "Kurduli Universe" were arrested, and 2 persons abroad were charged in absentia.
The law enforcement officers, born in 1965, Sh. M. (nicknamed "Chato") and born in 1972 M. F. – for the membership of the "Thieves' World", and G., born in 1979. N., born in 1979 V. A. and G. born in 1968 c. – He was arrested for supporting the activities of "Thief's World".
A. was born in 1960. J. (nicknamed "Kika") and R. born in 1969. c. And they are accused of appealing to a member of the "thieves' world".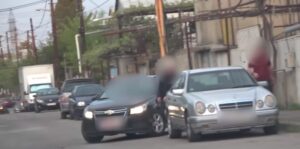 As for T. born in 1977. F. and G. born in 1975. T., they were charged in absentia for being a member of the "thieves' world".
Crimes are punishable by 3 to 10 years of imprisonment.
The investigation established that the defendants – G.N. and V.A., A.J. and R. Through G., they found a client in the Republic of Turkey – M. St., who purchased a large amount of gold items from them on the instructions of L.A. The coins were later found to be fake. In order to get back the money paid in fake gold, L.A. turned to the "thief in law" Mindia Lava Ogli for help.
In order to resolve the financial dispute between the parties according to the rules of the "thieves' world", the so-called Theft trials, in which, together with the disputing parties, criminal authorities and members of the "thieves' world", the "thieves in law" abroad: Mindia Lavasogli, Jeyran Kintsurashvili and Zviad Papiashvili participated personally and remotely.
The investigation also established that the arrested members of the "world of thieves" and criminal authorities, in order to settle financial disputes between citizens and receive personal benefits, were in contact with Georgian "legal thieves" abroad and the so-called organized secret matches.
As evidence, the police seized the defendants' mobile phones, through which they communicated with each other and with the "thief in law" abroad.
Appropriate procedural and investigative actions are continuing in the case, and it is possible that the circle of defendants will expand.
Investigation into the facts of membership of "Thieves' World", support of "Thieves' activities", and appeals to members of "Thieves'" under Article 223 of the Criminal Code of Georgia, Part 1, Article 223 of the 3rd Prima, Part 2 and 223 The 4th prima is proceeding with the 1st part of the article.