Nikoloz Samkharadze, Chairman of the Foreign Affairs Committee of the Parliament of Georgia, during his official visit to Latvia, met with the Chairman of the Foreign Affairs Committee of the Latvian Parliament, Richards Kols, the Chairperson of the European Committee of the Seimas, Maria Golubeva, and the Committee on Defense, Internal Affairs and Corruption.
The main issue to be discussed at the meetings with the legislators was the granting of EU candidate status to Georgia and the expectations of the European Council decision.
The Latvian parliamentarians reaffirmed their strong support for Georgia's European aspirations and expressed hope that the decision of the European Council would be in line with Georgia's interests.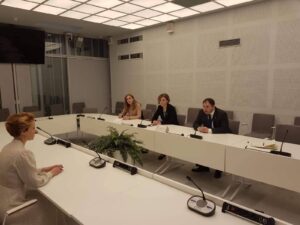 They reiterated Georgia as a leader in terms of reforms in the associated trio and noted that Georgia could play an important role in strengthening Europe's future security.
" During the meetings with my Latvian counterparts, I discussed the expectations related to the decision of the European Council. I received confirmation from them that they will continue to work with different countries to mobilize support for Georgia. I want to thank our friends for such strong and unanimous support, which we have felt from them for years, "- said Nikoloz Samkharadze.
During his working visit to Latvia, Nikoloz Samkharadze also met with the Chairmen of the Foreign Affairs Committees of the Czech and Moldovan Parliaments to discuss Georgia's accession to the EU, NATO's expectations for the NATO Summit, the ongoing Russian NATO aggression in Ukraine and the possibility of strengthening parliamentary ties.