From the time Russian President Vladimir Putin came to power, people living in Russia have been noticing how the Kremlin's ideology influences and divides the Russian community. 
Since the start of the Russian-Ukrainian war, as many as thousands of people have been taking to the streets of Russia to voice their disapproval of Putin's acts. The community in Russia have been divided into two parts. Some Russians are against the Kremlin's ideology, and some support it.
Russian Autocrat's full-scale invasion of Ukraine has widely been denounced as an act of unprovoked and unjustified aggression. Putin has erased Russia's prosperity in a feckless attempt to rebuild a doomed empire.
Russian citizens who are standing in solidarity with Ukraine and criticize Kremlin's actions are also stoking fears of an alleged hatred by Putin's supporters and people worldwide regardless of whether they support the Russian government or not.
To suppress people's voices, Moscow has enacted a censorship law under which if anybody is found speaking out against the narrative of the Russian government about the war, including calling it an "invasion" or "war," they will have to face 15 years of imprisonment.
The Russian Autocracy is torturing its people. Recently, a well-known hockey player in Russia was detained after signing a million-dollar contract with the American team, the Philadelphia Flyers.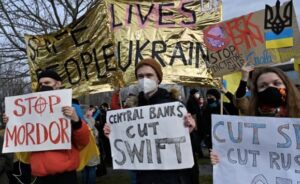 To teach Russia a lesson, western countries are ratcheting sanctions on Russia and its Oligarchs. Some of Russia's billionaires, known for having close ties to President Putin, are speaking out against his act of invading Ukraine as they are struggling to run operations both in Russia and outside Russia in a complete manner as before and suffering huge losses.
Many Russians who are against Russia's narrative are looking for ways to escape their country in the hope of starting a new life. But several countries have restricted Russians from arriving in their countries following the Russian-Ukrainian war as a part of sanctions and to safeguard their countries from the threat.
How is the government of Russia extremely suppressive?
Russian leaders have historically placed their own ambitions above the rights of ordinary citizens of Russia. Since the Russian President declared the Russian invasion of Ukraine, his administration has worked to stifle dissent with a wide crackdown on the remnants of Russia's free press, social media and public protesters. The last independent, liberal radio and T.V. stations, Echo of Moscow and Dozhd, were taken off the air by the Kremlin. It barred the magazine New Times from publishing stories about Ukrainian military fatalities. The majority of foreign news outlets with significant viewership and coverage in Russia, such as BBC Russian, Voice of America, and Deutsche Welle, are now also prohibited.
Moreover, Russian celebrities who have openly lambasted the war initiated by Russia have been rapidly punished, such as the nation's most famed talk show host Ivan Urgant, whose show has not aired since he did so. Many journalists are facing charges for covering anti-war protests in Russia.
In addition, the Russian Parliament enacted a law punishing people with fines and jail terms of up to 15 years for spreading "fake news" about the military. The act has compelled Western media to leave the nation completely: BBC, ABC, CBS, and CNN stopped broadcasting there, while the New York Times completely withdrew its reporters.
Russia has also blocked several social media platforms such as Facebook and Instagram. People have been arrested for as little as liking or sharing anything that criticizes the regime.
How the world can help Russians who are fighting the oppressive regime of Russia?
Countries that have restricted Russians should ease the way for innocent Russians so that they can start a new life where they can enjoy their rights and freedom of expression. Moreover, countries should open the doors for migrants as emigration has played an important role all over the world in economic success.
Countries that are standing together in imposing sanctions against Russians should also provide asylum to the innocent Russians who are fighting the oppressive regime of Russia.
Many countries have designed a programme "Citizenship by Investment" which offer citizenship in exchange for funds. The citizenship by Investment programme provides individuals and their families with the privilege of acquiring alternative citizenship, which in turn gives them the right to travel freely to various countries without any hassle and to settle in another country.
There are several countries in the world especially the Caribbean that are providing citizenship in exchange for funds.
Though CBI programmes allow individuals to obtain alternative citizenship through local investments, it is not an easy way, as the individual has to go through a multi-layered due diligence process.
The countries that provide alternative citizenship conduct due diligence before granting citizenship in which they thoroughly scrutinize the applicant's documents such as financial documents; criminal background.
How do immigrants help in the growth of the business?
Immigration has contributed immensely to several countries' economic success, such as America. Many Multi-National Companies, such as Google, Facebook, Microsoft, Accenture, etc., work to expand opportunities for all.
The U.S. economy has historically benefited enormously from immigrants, who significantly increase the country's overall economic output and tax revenue. For instance, in 2013, immigrants contributed $1.6 trillion to the GDP of the United States as a whole. Researchers in economics have discovered that immigrants raise the standard of living for all Americans by complementing native-born workers.
Some of the most influential entrepreneurs in the U.S. are immigrants or children of immigrants. This is particularly true in the I.T. sector, where individuals like Microsoft CEO Satya Nadella, who emigrated from India, and Google founder Sergey Brin, who left the Soviet Union as a young boy nearly 40 years ago, are examples.