Georgia:  9 Georgian fighters were injured in Ukraine in military action with Ukraine. One of the fighters, Lado Gamsakhurdia, wrote the information on Facebook and posted a photo from the medical institution. 
As per the information provided on the internet, all of them are fine.
According to Lado Gamsakhurdia, in military action with Russian troops, he was hit by a bullet and developed a slight contusion.
"As you can see, I'm fine. The clash was intense. We came out without a loss. Opponents have a solidarity loss. Thanks to our Georgian commander and our fighting brothers. Thanks to the doctors. Together we will win. As the commander said: "We took the blood of the killed Georgian fighters," Gamsakhurdia wrote.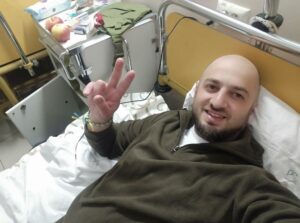 Today, the conflict between Russia and Ukraine reached day 71, with Russia showing no indications of stopping its attacks. Russia has been bombing and shelling Ukraine on a daily basis. Thousands of people have been slain, with no exact figure yet available, and a large number of properties and buildings have been devastated.
Several people came to his post for comments. One Twitter user said, Don't worry, we are all light. There's nothing to worry about.
Let the enemy worry and lose sight.
And many people wished him and others a speedy recovery.
As of now, at least nine Georgian fighters have been killed in Ukraine in the wake of Russia's invasion of the country.
All of the nine deceased volunteers are as follows-
Nika Shanava, 

Davit Menabdishvili, 

Gia Beriashvili, 

Davit Ratiani, 

Davit Gobejishvili, 

Bakhva Chikobava, 

Arkadi Kasradze, 

Zaza Bitsadze and 

Alika Tsaava.