The Committee of Education and Science in the Kakheti Region completed its field visit to the Gurjaani Municipality.
As part of the field event, the deputies visited educational institutions in the municipalities of Sagarejo, Telavi and Gurjaani. They met school principals and teachers, and non-governmental organizations working in the field of education. They got acquainted with the practice of using educational resources by the institutions and discussed the problems, challenges and ways to solve them in the education sector.
"Education and Science Committee conducts two surveys – "Assessment of the effectiveness of school educational resources" and "Assessment of access to quality education for ethnic minorities". For this purpose, we had a three-day field trip in the Kakheti region. We were in Sagarejo, Telavi and Gurjaani districts. We visited schools, visited a vocational college. And we were at Telavi State University. We met with school principals and teachers. We got acquainted with educational resources. We discussed all the important challenges. In the near future, we will develop relevant recommendations in order to solve the existing problems," said Giorgi Amilakhvar.
---
---
The first deputy chairman of the Education and Science Committee, Tamar Taliashvili, thanked the participants involved in the thematic research process.
According to him, with joint efforts, it is possible to conduct the correct and proper teaching-learning process in schools.
"In the Kakheti region, we had the opportunity to meet school principals, teachers and non-governmental organizations. We talked with them about important ongoing projects, the process of educational reform, and also about the challenges that exist on the ground. They shared their visions with us. We are very grateful to all the schools involved in this process. Also, thanks directly to the majoritarian deputies in whose regions we were. Through joint work, it is possible to overcome the challenges and develop the teaching-learning process in our schools tailored to the best interests of our students", said Tamar Taliashvili.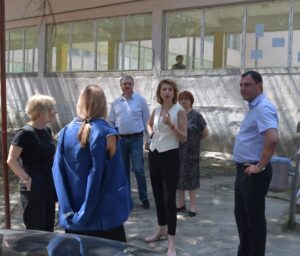 The external working visit was carried out with the support of the European Union (EU) and the United Nations Development Program (UNDP).