Sunday is a fun day. We all relax and think to do a party. What if it is not safe? What if it becomes a nightmare? The same thing has happened with an American rapper, songwriter, and singer, Megan Thee Stallion. Megan has not disclosed every detail of the injuries but said, "grateful to alive," after suffering gunshot on Sunday evening. Fortunately, expecting to recover fully.
Megan Jovon Ruth Pete, professionally known as Megan Stallion, is one of the renowned and famous American singer, rapper, and songwriter. She has savagely topped the US chart in May. Her viral dance craze TikTok song also came in the top 3 in the UK, thanks to Beyonce. Last month at BET Awards function, after beating Cardi B, Nicki Minaj, and Lizzo, Megan was named the best female hip-hop artist.
Inside the story
Although the report says that she had cut her foot on broken glass at an incident in Hollywood Hills, in which Lanez got arrested. But conversely, on Wednesday, she "set the record straight." A video came out showing Megan bleeding from her foot after police stopped Tory Lanez's car. Allegedly, Tory has charged with carrying a concealed weapon.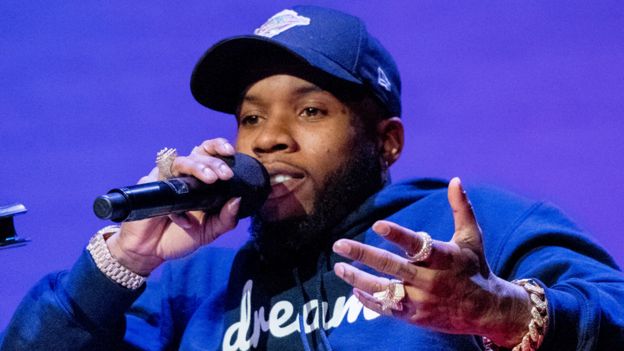 In a report at the LA Police department, it was allegedly Tory Lanez who shot Megan in his SUV, while an argument, on a Sunday morning. The incident took place when Megan and Tory were returning from a house party from Hollywood Hills. During a case, when  Megan tried to step out of the vehicle, then he opened fire inside the car. The rappers were then pulled over by police.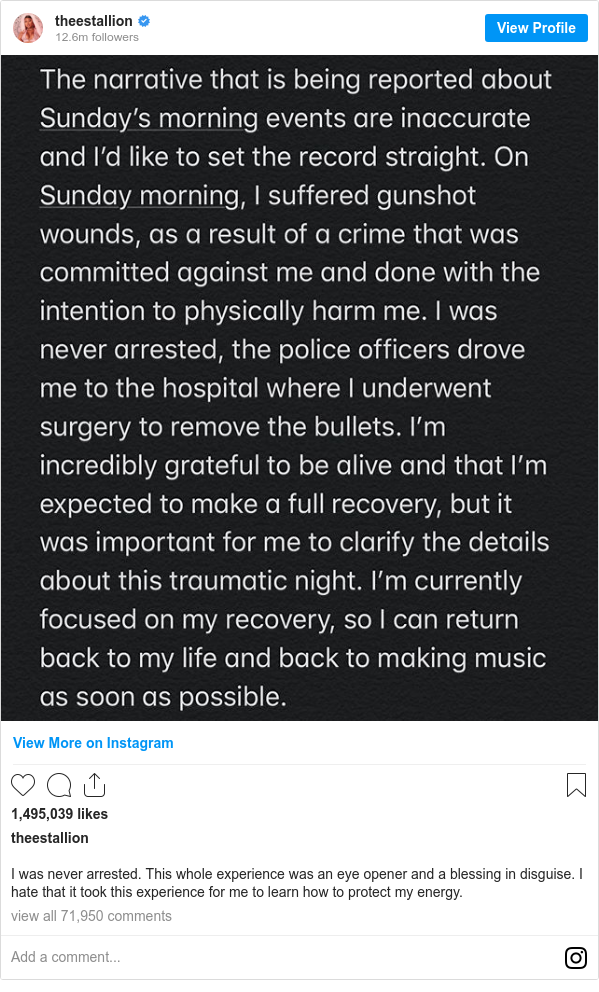 On Thursday, a video emerged showcasing that the police order the rappers to step down from the vehicle and put their hands in the air. On the other hand, Megan was bleeding from her feet. Along with leaving bloody footprints on a sidewalk. Initially, the police report said that the gunshots were into the air, not on someone intentionally. The LA police arrested Tory and did not detain Megan. Tory got a release on bail. Despite the statement on the post, she has yet not unveiled who shot her and why. However, she has not witnessed the person who shot her even in front of the police department.
Personal Life
Megan Thee Stallion pronounced as Megan The Stallion is born in Bexar Country, Texas. She was born and brought up in South Park, Houston. As a /teenager, she has started writing and performing raps. Firstly, she came into limelight after her first freestyling video became popular on Instagram. Since 2017, Megan has released three EP's – Make It Hot, Suga, and Tina Snow.
Along with these, she has received many awards since then.
Nominated for BET Awards 2019, and later won the award in 2020 for best female Hip-Hop Artist.
In 2019, she won Hot Ticket Performer Award and Best Mix Tape Award at the  BET Hip Hop Award function.
At the Billboard Women in a Music award function, she won Powerhouse Award, 2019.
In 2019, she also won Best Power Anthem at MTV Video Music Awards and Breakthrough Artist Award at Variety's Hitmakers Award function.