Georgia's European and Euro-Atlantic integration and the special friendship and partnership relations between the two countries were the main issues of the meeting between the Prime Minister of Georgia, Irakli Garibashvili and the President of the Republic of Estonia, Alar Karis.
The meeting, which took place during the Prime Minister's visit to Davis, noted the close partnership between the two countries and the significant support provided by Estonia to bring Georgian institutions closer to European standards.
Irakli Garibashvili thanked Alar Karis for his unwavering support for Georgia's territorial integrity, sovereignty and the country's European and Euro-Atlantic integration process. For his part, Alar Karis reaffirmed Estonia's strong support for the country's territorial integrity and sovereignty.
Speaking about Georgia's progress on the path to European and Euro-Atlantic integration, Irakli Garibashvili said that Georgia had completed the European Commission's self-assessment questionnaire ahead of time and was now awaiting a decision from the European Commission.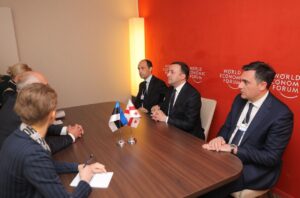 The meeting focused on the importance of Georgia's NATO integration process.
The meeting highlighted the successful partnership between the two countries in the fields of innovation, digital technology and education, as well as defence. The importance of further deepening economic cooperation and the need to make full use of the existing potential in this regard was stressed.
The conversation also touched upon the ongoing hostilities in Ukraine. Irakli Garibashvili reiterated Georgia's solidarity with the Ukrainian people.