June 1 is International Children's Day, which has a special significance in the process of raising awareness about the rights of the child.
The Public Defender of Georgia has stated on its official Facebook page that on this day, it is necessary to talk about the child protection situation in the country and the role of each of us in improving this situation.
We can not ignore the fact that no child should have to test the tragic consequences of war on themselves. The ongoing hostilities in Ukraine have claimed the lives of hundreds of children, left many injured, lost parents, had to leave their homes and have been dealing with war trauma for more than three months. Therefore, this year is especially important to take effective steps to support children affected by the Ukraine war and internally displaced persons in Georgia to provide a safe environment and strengthen their families.
On the other hand, the problems of child poverty, violence against children, lack of rehabilitation, support services and the lack of a child-friendly environment have been acute in Georgia for years, requiring fundamental changes and coordinated action by the state.
One of the main challenges for the country remains the growing rate of child poverty. In particular, compared to the previous year, the number of families with children enrolled in the "Unified Database of Socially Vulnerable Families" increased by 28%, and the number of minors involved in the program reached 235,252. However, existing programs in the country still fail to provide long-term support to families living in poverty and enhance their social function. There is still no effective strategy and mechanism for reducing child poverty and child labour, even in the state.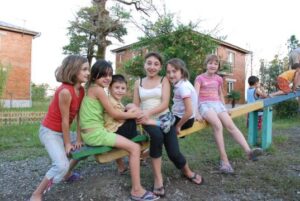 Although the implementation of state child care in large residential institutions is fundamentally contrary to the fundamental principles of the rights of the child and has a devastating effect on the adolescent, three such institutions are functioning in the country, and no specific plan for their deinstitutionalization has been approved yet.
In order to overcome this and many other challenges in child protection, it is important to raise public awareness on the one hand and to provide timely and coordinated action by government agencies, which, with an individual approach tailored to the best interests of the child, provide for those with different needs, including those living in poverty. Empower children and their families.
Therefore, in order to ensure proper protection of the rights of the child in the country, it is necessary to:
Increase the effectiveness of child welfare support programs and services, develop additional targeted programs, and ensure their geographical accessibility;

Timely and effective management of the deinstitutionalization process, within the framework of which each child will be provided with the closest and safest environment to the family.