Georgia: Several people came to the streets to raise their voices in a protest in support of former President Mikheil Saakashvili in front of the Government House of Adjara in Batumi. 
As per the sources, protestors told the journalists that police suddenly started dispersing the rally, which was in support of the former imprisoned President Mikheil Saakashvili.
The police started setting up the tents to detain the demonstrators to put them into tents to disturb the peace in that area.
According to the sources, members of the Batumi City Council and the Supreme Council are among the detainees. Giorgi Kirtadze was also arrested. The number of arrested people has not been determined yet, though protesters say police have taken more than a dozen people.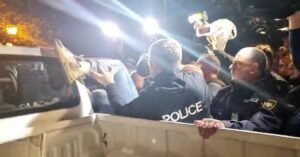 A rally was held in Batumi demanding the transfer of Mikheil Saakashvili for medical treatment abroad. 
Several leaders throughout Georgia and the world gave their remarks on the deteriorating health condition of Saakashvili.
Reports of Saakashvili's deteriorating health are disturbing. We call on our Georgian partners to provide appropriate treatment to the former President and to support his recovery. The right to health is a fundamental part of our understanding of human rights and dignified life, said Maia Sandu, the President of Moldova.
However, several people claimed that the information regarding Mikheil Saakashvili not receiving proper medical care was false.
Saakashvili is provided with three meals a day, as well as access to the penitentiary shop. He was also allowed to receive parcels from the people that he mentioned.
Along with this, Saakashvili was also provided with the right to walk in the penitentiary centre, which, according to him, he does not use. 
The family members and the legal team of Mikheil Saakashvili are demanding from the Government the transfer of his medical treatment abroad. According to them, Saakashvili is not receiving appropriate medical treatment/care in Georgia. The family has requested the Government to agree with their request to shift him abroad.