US Department of State Spokesperson Ned Price on Wednesday stated in a press briefing that Georgia and Moldova are "important partners" of the United States, and the US is committed to their sovereignty, independence and territorial integrity.
Ned Price made this statement at a briefing at the State Department, where he was asked by a correspondent whether the US is considering additional military aid to Moldova and Georgia and whether the states see the imminent threat of new aggression against these countries.
---
Both Georgia and Moldova are important partners of the United States. We are committed to their sovereignty, independence, and territorial integrity.
---
We have shown this commitment in many ways. As for Moldova, we talked about it on Tuesday. We recently started a strategic dialogue with our Moldovan counterparts. Secretary Blinken was in Chisinau a few days ago, where he met with the Moldovan leadership.
It is a partnership that includes many different elements. We have provided significant assistance, in the amount of money or humanitarian assistance, to our Moldovan partners. "Our military has an effective partnership, as I said, with regard to sovereignty, independence and the territorial integrity of Moldova and Georgia," Price said.
When asked whether he planned to hold talks with the Georgian side on the latest developments in the region and Russian aggression, Price said that the states have constant contact with the US Embassy in Georgia and discussions on the matter are ongoing.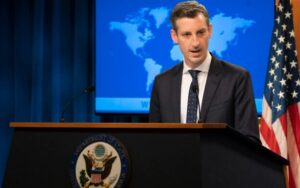 He also noted the US was "always" in touch with its partners in the Black Sea region, including Georgia.
We are in frequent talks with the embassy ​​with partners in the region. This, of course, applies to our colleagues in Tbilisi. We know that Vladimir Putin may have aspirations for aggression against other countries in the region.
"It shows the response of Washington and that the United States and its allies will not tolerate such actions," said a State Department spokesperson.