Tbilisi: In order to promote agro-food trade, Georgian Minister of Environment and Agriculture, Otar Shamugia and Hungarian Minister of Agriculture ,István Nagy signed a memorandum of cooperation.
 At the official meeting held at the Ministry of Environment and Agriculture, the parties discussed Georgia's investment opportunities and prospects for deepening cooperation in honey and wine export.
 Otar Shamugia talked about the importance of diplomatic and partnership relations with Hungary and provided information to his Hungarian colleague about the conducive environment for business production in the country.
 "For us, as a country seeking candidate status, it is particularly important to support Hungary, partner cooperation and share experiences. At the meeting with the Hungarian Minister of Agriculture, we talked about strengthening cooperation in various sectors, including opportunities to increase wine exports.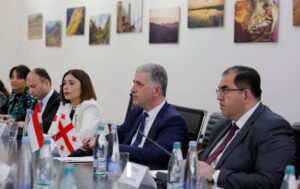 There is every circumstance to encourage the business sector to forge connections, to attract investments in sectors that can be attractive to the Hungarian side," Otar Shamugia said.
"Georgia has a great potential for agricultural development. I think that the signed memorandum will lay a firm foundation for further deepening existing relations. I hope our cooperation in the near future will bring tangible and mutually beneficial results," said István Nagy.
 At the meeting, the discussion also touched on the importance of sharing knowledge and experience in the development of wealth and population.
The meeting was attended by Georgian Deputy Minister of Agriculture, Nino Tandilashvili, Deputy Minister Tengiz Nasaridze and Yuri Nozadze, as well as the heads of the relevant department.
 During the visit, the Hungarian delegation visited the Agricultural Science and Research Center Jighaura, the test-demonstration base of perennial cultures. 
The director of the centre Levan Ujmajuridze asked the minister to look at the vineyard collection built on the base. The Guests learned about the history of Georgian winemaking, the potential of the country in this direction and the wines grown from rare Georgian vine varieties.